$

14.40
Peace Petals Soaking Salt Bath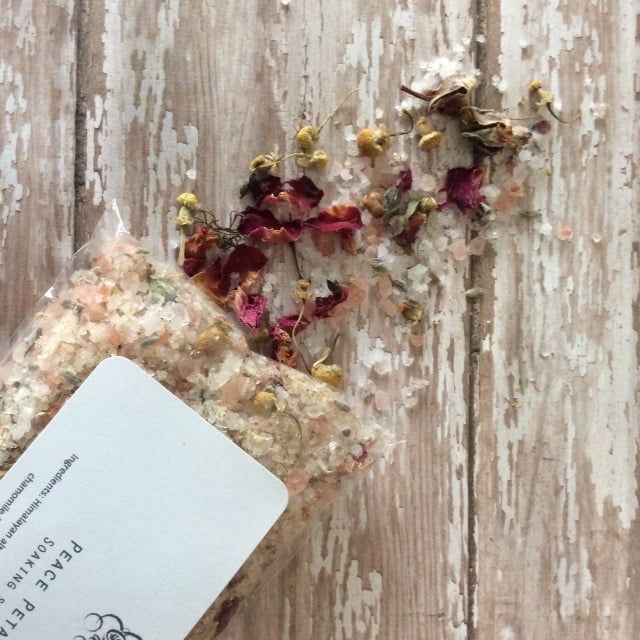 Rich with ingredients to chase away toxins and pulls out impurities This gentle bath is calming and soothing. Inhale the relaxing fresh scent of this soothing detox bath. 2 tea bags included in package.
8 ounces
Please allow 7-10 Business Days for delivery.
Ingredients: Himalayan Pink Salt, Sea Salt Rocks Epsom Salt, Chamomile flowers, Roses, Sage and Essential Oils.
Benefits: It soothes headaches and sore muscles, achy joints, speeds up the healing process of colds and flues, alkalizes the body, washes waste from the body, softens skin and it's a gentle way to detox the body. A very important ingredient in our detox bath is Chamomile. It has been used to treat many skin ailments such as rashes, allergy, skin inflammation, irritation, dry skin, wrinkles, dark circles, skin ulcers, lightening dark marks on the skin.
How to Use Steps:
Drink plenty of water Hydrate! Hydrate! Hydrate!
Add 1/4 cup of detox bath to your tea bag or pour directly in hot bath
Relax in tub for at least 20 minutes
You will sweat so be prepared.
Moisturize your skin with our clean Coconut Lotion Bar
Drink More water...Hydrate! Hydrate! Hydrate!
Rest and have the best sleep ever!